Five Metal Shop Calendar 五金行日曆 2020 *new*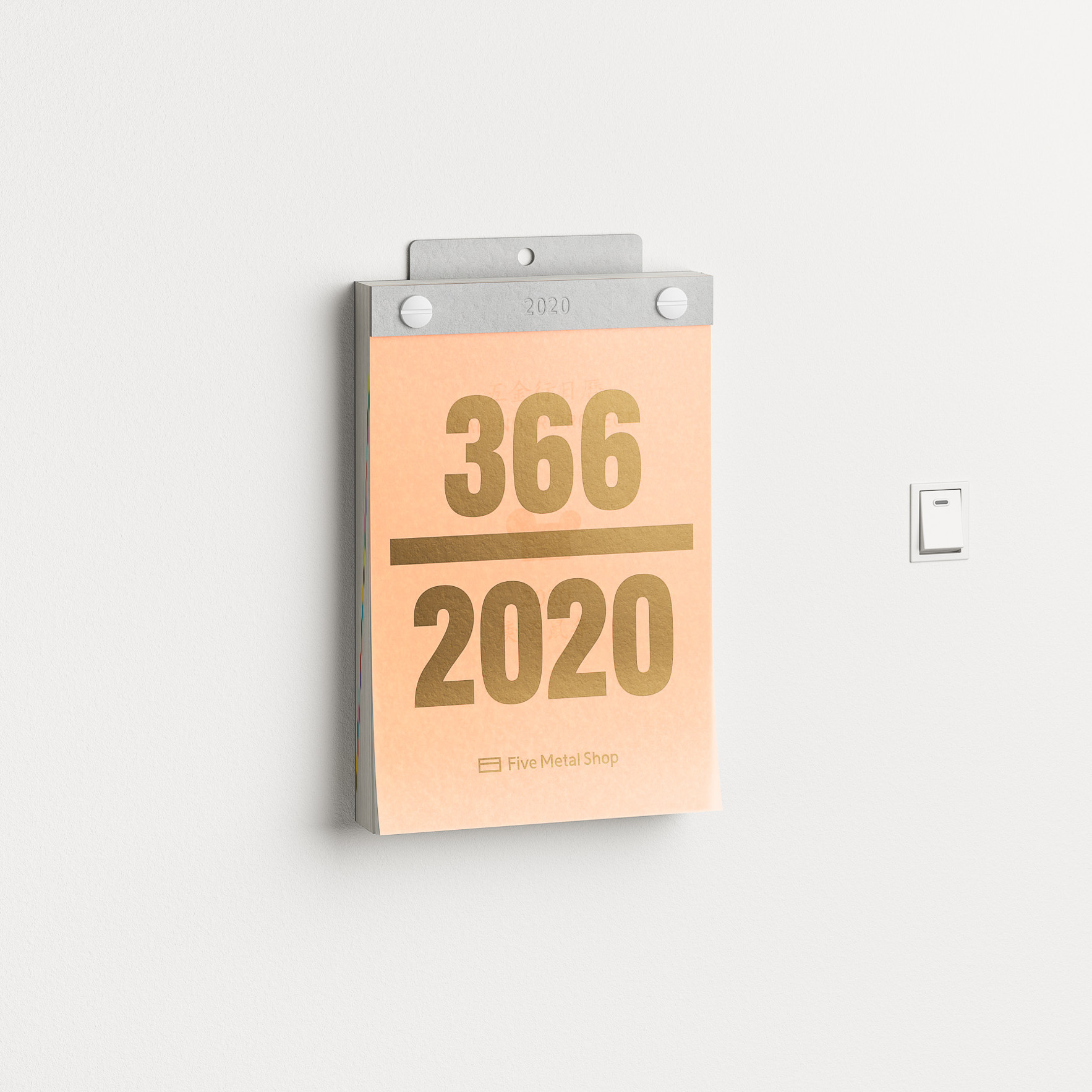 Five Metal Shop Calendar 五金行日曆 2020 *new*
好好記住每一個日子!2020 繼續加油!
台灣設計工作室 Five Metal Shop 四年前本來想設計了一本「比普通好一點」的手撕日曆,這本日曆卻意想不到地記載著大家的生活,有人將兒子18歲生日那天的日曆留下來,有分隔異地的情侶每人一本,一起倒數著重逢的日子,這樣比看著電話上的日期浪漫呢。經過三年熱賣,2020年五金行日曆正式登場了!
2020版日曆設計元素:
♡ 採用全新 Pantone 專色組合視覺 — Neon 霓虹色+螢光色
♡ 加入全新插畫展示特別節日及二十四氣節
♡ 調整舊有的日出日落圖示及日期字體
♡ 附有撕線,讓你完美地保存每一張漂亮日曆
♡ 385頁 100% 人手裝幀
Size: 12.3 x 18.4 cm
☆ 霓虹色與螢光色是模樣人眼視覺的顯色,日曆在晚上不會發光啊請放心!
預購限定額外贈送:
1. Super Pop 鎖匙扣(Ice-cream / Superstar 二選一)
無論是用色、形狀、內凹的角度或者打洞的位置,偏執的設計據說把生產工廠逼瘋了!
2. Tyvek® 防水環保袋
像紙一樣柔和的質感,卻擁有極防水、且不易破的特性,設計外觀即將公佈!
Designed by Five Metal Shop (Taiwan)
Printed in Taiwan

100% 人手裝幀
365張印刷好的日子不能以機器迅速裝幀,只能以人手順序逐一疊起來。
預購贈送禮物:
1. Super Pop 鎖匙扣(Superstar & Ice-cream 二選一)
無論是用色、形狀、內凹的角度或者打洞的位置,偏執的設計據說把生產工廠逼瘋了!
-
2. Tyvek® 防水環保袋
像紙一樣柔和的質感,卻擁有極防水、且不易破的特性,設計外觀即將公佈!
A calendar where you tear off a page after each day ends is a typology unique to Asia. Traditionally in East Asia a calendar contains the date, month and year but also the date in the lunar calendar along with various information pertaining to the 'wisdom' of that particular day, such as indications of good days for moving, farming and ploughing, getting married and so on. As well as a calendar it served as a daily guide with tips for what was then a mainly agricultural society.
You don't see many young people using this type of calendar these days because the social context is now so different. However, we have always admired this typology and the important social and functional story behind it, so we decided to revisit the design and update it for today. We tried to keep the design honest and refrain from over-designing it. We made minor tweaks to the typeface and the layout but the DNA of the calendar remains the same. We have used two pantone colours for each month and have also created a few special illustrations for the days we like most. In keeping with tradition we also decided to show the dates on the lunar calendar for your interest.
Design Origin: Taiwan
Photos by Five Metal Shop
we think you might also ♡...